FOR PARENTS OF JUNIOR HIGH KIDS, HIGH SCHOOL STUDENTS AND KIDS LOOKING FOR A NEW LEARNING ADVANTAGE…
A unique, user-friendly course that can revolutionize your child's academic journey...
Unlock Academic Potential in Just 3 Days to Retain More Information, Get Better Grades and Make Learning Easier
…Without procrastinating deadlines, illegible chicken scratch notes, or last minute exam cramming
Students Improve Individual Leaning Potential FASTER
If you're reading this, you're on a quest to empower your child's academic journey. I get it. As a parent, I've walked in your shoes, and I want to share with you something extraordinary – the secret to unlocking your child's true academic potential.
I was once where you are, concerned about my child's confidence, time management, knowledge retention, creativity, and those all-important grades. It was an uphill battle, filled with frustration and countless late-night cram sessions.
But there's hope. There's a different path, a path I'd like to show you, a path that has transformed my child's academic life.
Introducing
Learning Fundamentals Academic Accelerator!

An easy-to-follow, self-paced course (based on learning psychology) to help junior high and high school students of all skill levels improve 3 vital elements of effective learning: Organization, Note-taking and Study skills. 
Work through 3 engaging ~90 min. videos and companion workbooks.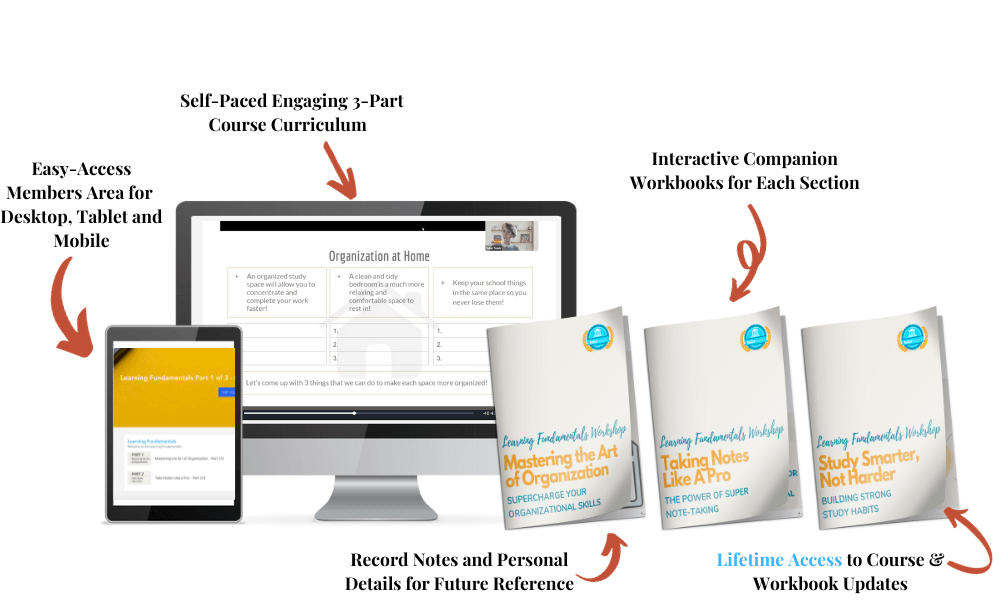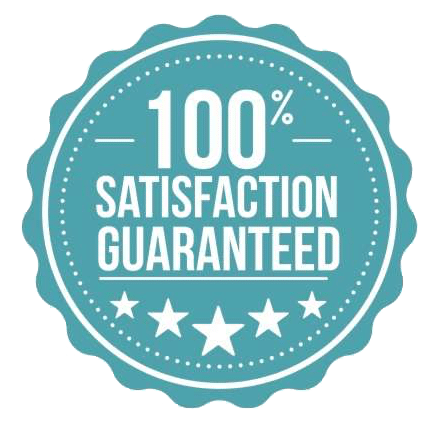 Get Lifetime Access to the Course & Workbooks For...
Imagine your child confidently tackling their assignments, with a well-organized mind and study space. Picture them managing their time efficiently, staying on top of deadlines, and saying goodbye to procrastination.
Think about how much easier their academic life could be if they could distill complex concepts into a few keywords and quickly recall everything they've learned. Envision them entering the perfect study headspace and engaging their brain to remember information effortlessly.
Here's the Roadmap Students Go Through in the Course...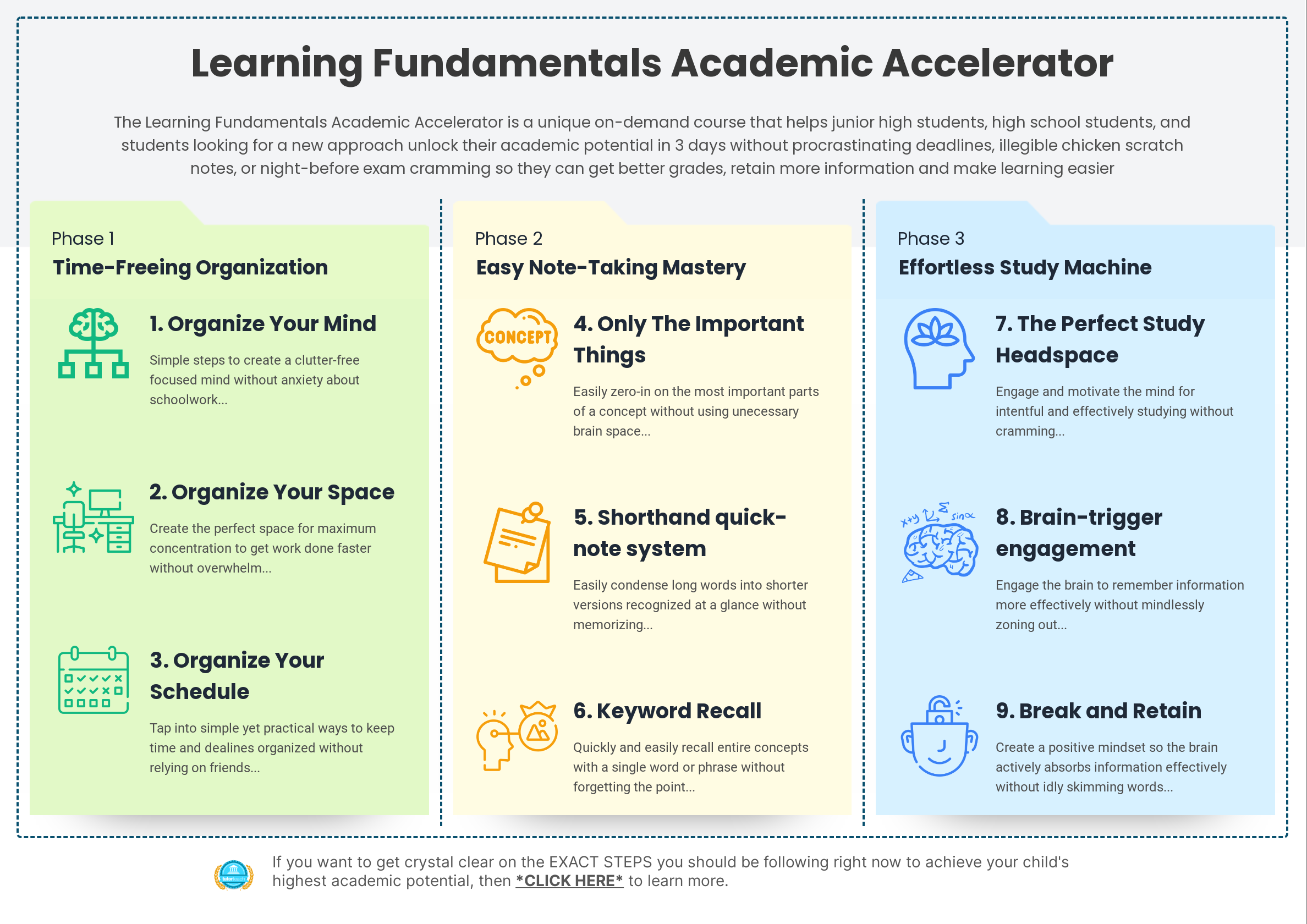 Here's a Breakdown of Each Section...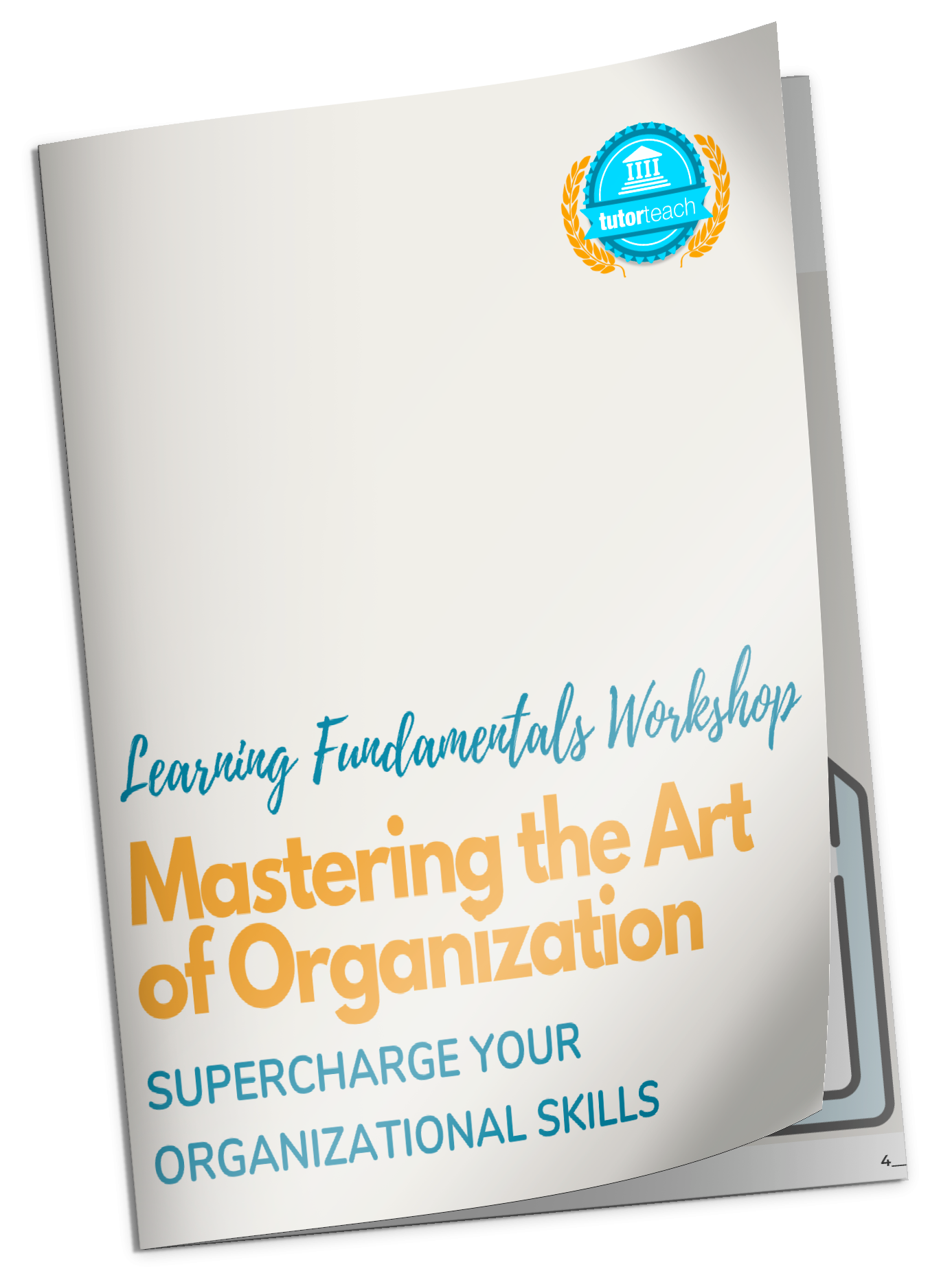 Part 1: Mastering the Art of Organization
Create a clutter-free focused mind, the perfect space for maximum concentration to get work done faster and simple yet practical ways to keep time and deadlines organized.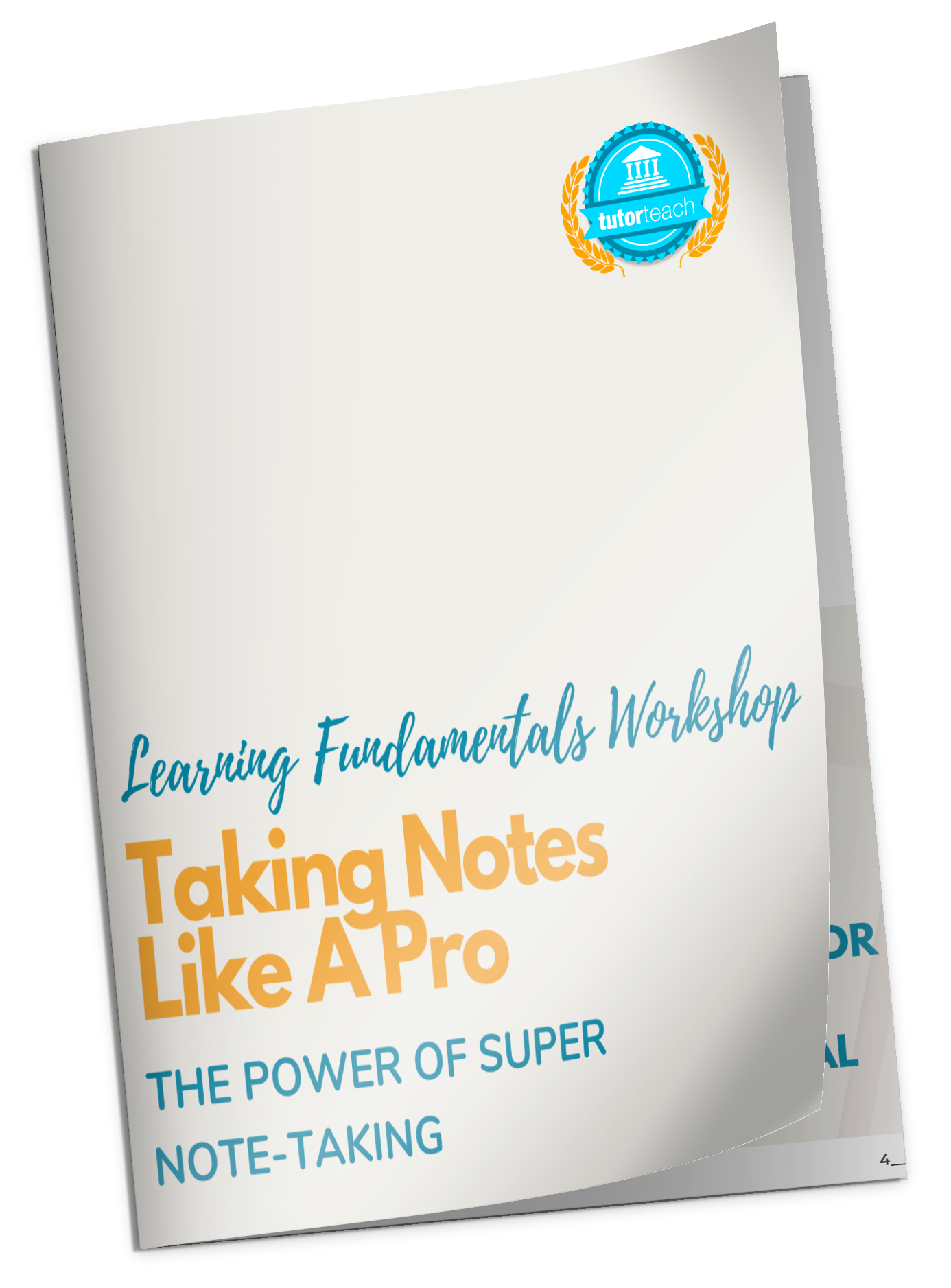 Part 2: Taking Notes Like a Pro
Zero-in on the most important parts of a concept, condense long words into shorter versions recognized at a glance and easily recall entire concepts with a single word or phrase.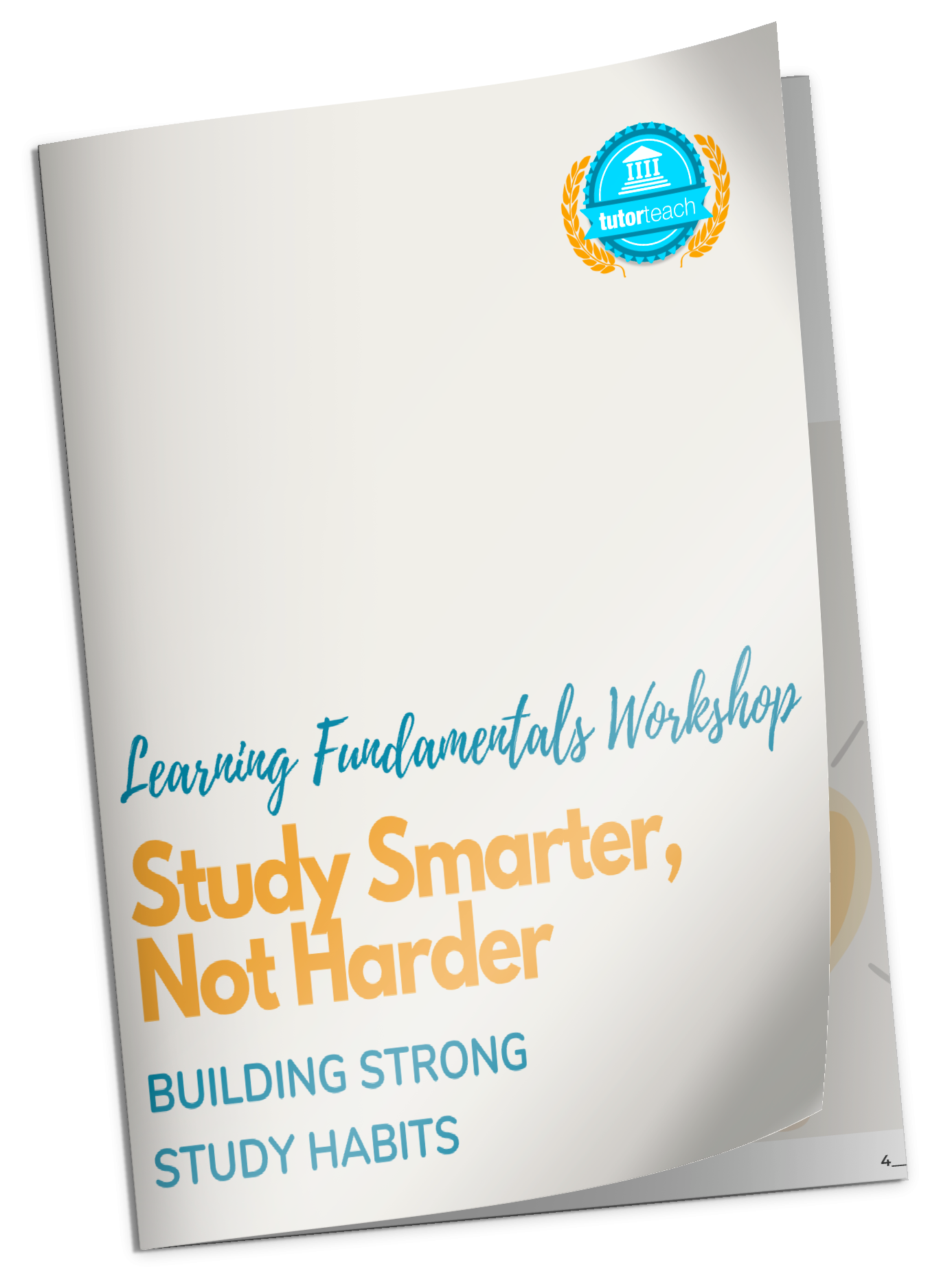 Motivate the mind for intentful and effectively studying, engage the brain to remember information more effectively and create a positive mindset so the brain actively absorbs information effectively
Think about how much easier academic life could be...
Here's What Parents Are Saying About the Course...

"Our hearts sank as we watched our child struggle with poor grades. But this course was a game-changer. The clear study strategies not only improved her grades but also ignited her confidence. We're over the moon with the results!"
Sarah H. – Relieved Parent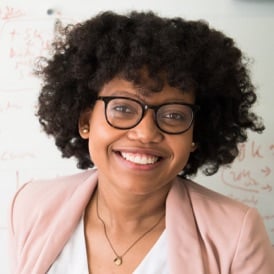 "I used to dread the last-minute cramming stress my son faced. This course introduced him to efficient time management, and it's like a breath of fresh air. Now, his study sessions are relaxed and productive. My wife and I couldn't be happier!"
Dave S. – Relieved Parent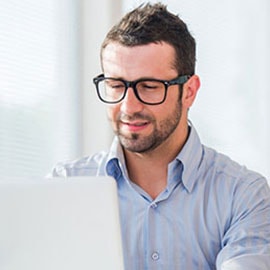 "Our daughter's notes were a disaster, and it was a concern. But the shorthand note system in this course turned things around. She's now the go-to note-taker and her straight A's are proof. We're absolutely thrilled with the transformation!"
Jennifer C. – Relieved Parent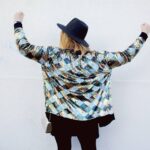 P.S. – I won't sugarcoat it – our system requires commitment from both parent and child. Your child must be willing to invest in themselves, actively seek support, and commit to achieving their academic goals. Every parent must be willing to support the journey as a priority… But the rewards are beyond worth it!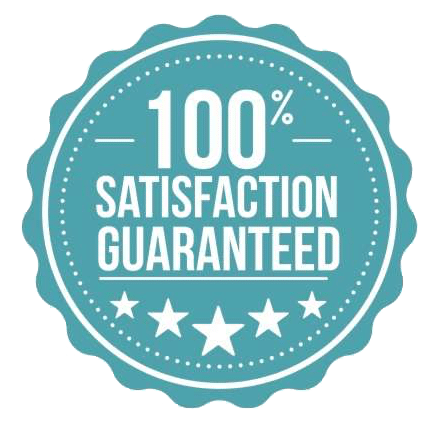 Get Lifetime Access to the Course & Workbooks For...